JB PRESTIGE SAAB VEHICLE SERVICE
The JB Prestige service team has experience where it counts and the latest technology to get you back on the road sooner rather than later. With over a combined 20 years of experience, our technicians are your Saab specialists.
At JB Prestige, we pride ourselves on expert advice, quality repairs and reliable service across Melbourne. Whether its adding new life to an entry level vehicle or keeping your late model Saab in showroom condition, our mechanics are the team you can trust with your car.
JB Prestige offers everything from scheduled services to performance tuning – and we'll even send you home in a courtesy car while your Saab is in our care!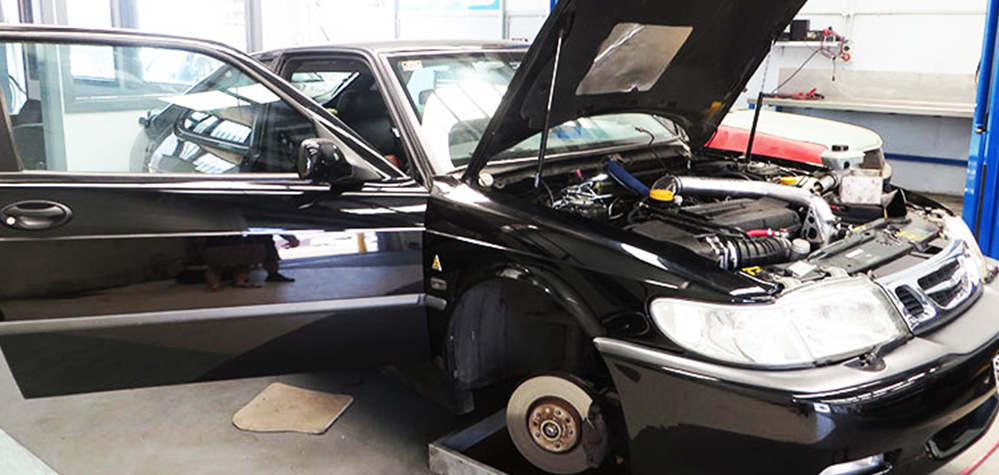 SCHEDULED SERVICING
BOOK NOW
YOUR NEXT SAAB CAR SERVICE ONLINE
Book your next SAAB car service online.
Simply fill out your details below and we will contact you on your SAAB car service date!
OUR FULL RANGE OF SERVICES
Scheduled SAAB Services

Saab is a brand with a long history of innovation, performance and also driver safety. Since its beginnings in the 1930s as Svenska Aeroplan Aktiebolaget, Saab has meant quality and at JB Prestige, we want to maintain that same standard. Our service team has the expertise and professionalism to keep your Saab running efficiently with scheduled services. We schedule our services and repairs according to the Saab schedule book. Filters, fluid levels, transmission fluids, interior cabin filters , coolants and spark plugs, just to name a few, need to be repaired or even upgrades at a certain mileage to ensure fluidity and minimise engine sludge. The Saab scheduled service book differs from model to model and ensures that your Saab is getting the treatment it deserves. Your vehicle will be thoroughly checked out and scanned to diagnose any computer or software issue. Everything will be explained in plain English and any required repairs will be discussed with you before proceeding. With over 23 years of experience, we are the Saab specialists.

Complete independent SAAB workshop

The JB Prestige team loves your Saab as much as you do; it's why we work with them every day. Our technicians are up-to-date with new technology in each model and have the latest tools on hand. From entry level Saabs to late models, JB Prestige's staff is fully qualified and accredited to tackle everything from scheduled services to performance tuning. At JB Prestige, with over 23 years of experience, we're dedicated to quality and reliable service.

SAAB Brake Repairs and Upgrades

Keeping your car running is one thing, stopping it is another. Even a small problem with your brakes can put your family in a dangerous situation on the road. At JB Prestige, our technicians are fully qualified and can professionally replace your disc rotors, upgrade your pads and perform machining of discs. Before you leave on your next holiday or weekend away, contact JB Prestige's service team and we can assess your vehicle, to ensure that your brakes work and stop in a safe stopping distance. We do offer bigger brake upgrades also different brake pad material to suit your model. Contact us now!

SAAB Computer Diagnostics

The qualified service team at JB Prestige has more than 20 years' combined experience and the latest technology at their fingertips. If the error light pops up on your dashboard, you will need to get your vehicle scanned with our diagnostic computer. JB Prestige with our knowledgeable and experienced staff and our diagnostic computer tests can asses whether to replace a faulty component or upgrade the software. Programming and software upgrades performed by our mechanics can be the lead solution for various other known issues the vehicle faces. Combined with their superior knowledge, they can diagnose and repair any faults in your Saab's computing system. Modern vehicles rely on a fully operational computer and without the necessary electrics your car may not be running correctly. JB Prestige's technicians will perform all the necessary scans to pinpoint the problem areas in your Saab. Whether it's a battery replacement or something more complex, we handle each case with utmost professionalism and care for our clients.

SAAB Engine Rebuilds

JB Prestige provides state-of-the-art engine rebuilds. The engine is stripped from the vehicle, thoroughly cleaned with all sludge removed. Engine components will then be assessed in regards to the manufactures tolerance to detect if any worn out components need to be renewed. These components could be bearings, balance chains, piston rings, gaskets and seals. The JB Prestige service team has more than 20 years' combined experience, is fully qualified and has a workshop brimming with state-of-the-art technology. Why take your Saab anywhere else?

SAAB Suspension

If your Saab isn't negotiating those tight corners as well as it used to, steering is not as responsive as it should be, or the trip isn't as comfortable as it once was, it's time to get your suspension checked. Good handling and stability largely rely on how well your suspension system, ball joints and suspension bushes are operating. JB Prestige can provide state-of-the-art repairs on your vehicle's shock absorbers and make sure your next trip is safe and comfortable. JB Prestige always aims to provide a high level of service that you can rely on and at competitive prices.

SAAB Water Pump Replacements

Summer in Australia is no laughing matter and a faulty water pump can affect your vehicle's entire cooling system. JB Prestige's service team is fully qualified to replace your Saab's water pump and make sure the cooling system is functioning properly. The water pump circulates water and coolant from the engine to the radiator to keep consistent running temperatures. Pump coolants control your engine's operating temperature for optimal performance. As coolant flows through the system, it picks up heat from the engine before arriving at the thermostat, which opens to allow hot fluid to travel to the radiator to be cooled. If the thermostat has become damaged, your Saab is at risk of overheating or worse. Don't risk a 40-degree Aussie summer day stuck on the side of the road. Contact JB Prestige and our technicians will thoroughly check your entire cooling system and make sure it's functioning properly. If there is a problem, our service team will repair it with the same high level of quality you can always expect from JB Prestige.

SAAB Clutch Repairs

With the aid of our dedicated technicians, shifting gears will have never felt so smooth. JB Prestige has the experience, qualifications and tools to solve all of your Saab's clutch and gear box issues. The clutch is an essential part of your car and if you're having any difficulty shifting gears or find yourself needing to apply more pressure on the clutch, something is not going to plan. By replacing and repairing clutch kits, pressure plates and clutch plates JB Prestige will analyse and detect the problem, ensuring that your clutch system is back on track. Our dedicated and reliable service doesn't stop there – we will also perform after tests to make sure your Saab is working perfectly.

SAAB Performance Tuning

We all like a bit of style and extra engine performance in our cars. JB Prestige with state of the art computer software will run a variety of tests on your Saab to ensure maximum efficiency is always reached. We offer engine ECU performance upgrades, which controls boost pressure increasing turbo boost pressure to the engine also remapping of ignition and remapping of the air/fuel ratio. Our qualified technical team will give you the increased engine power performance and electronic tuning you desire. JB Prestige is equipped with all the latest electronic tuning equipment, for peace of mind knowing that your car is in the right hands. From software and intercooler upgrades to bigger turbo installations we can enhance your car. This can help to unlock the true power potential of your SAAB and even increase fuel efficiency.

SAAB Turbo repairs and replacement

Is there anything more satisfying then a Saab in prestige condition deftly responding to every push and press of the accelerator? A smoky turbo might mean your turbo is in urgent need for replacement. The accumulation of sludge in the engine is what leads engines to fail and malfunction. By applying a PCV (Positive Crankcase Ventilation) valve, helps ease the situation. The fully qualified and experienced team at JB Prestige will assess all of your turbo's components and get it back to its best avoiding premature turbo failure. We're here to maintain the prestige of your vehicle, giving you outstanding vehicle performance, unrivalled performance and a silky smooth ride.

SAAB Balance chains

Worrying noises? Is your car rumbling? If even the smallest trip is marred by vibrations, it could be a warning your balance chain has a fault or breakage. This balance chain is a complex system of rotators and requires a specialist to ensure that everything is restored in its initial position. Here at JB Prestige, our qualified and accredited technical team offers state-of-the-art balance chain repairs to make your engine run smoother and quieter. JB Prestige's service team can fix, restore and clean the balance chains on all Saab models. If your car's balance chain is a concern, contact the reliable technicians at JB Prestige today.

SAAB Timing Belt Replacement

All vehicles that have a timing belt, require a timing belt that drive the camshafts correctly with replacements that follow the Saab schedule service book. If this process shows any malfunction, it can result in severe engine damage. JB Prestige's service team has more than 20 years combined experience and can replace your Saab's timing belt to keep your vehicle running smoothly.

SAAB Competitive Pricing

Keeping your vehicle in prestige condition doesn't have to come at a premium price. The team at JB Prestige will evaluate the severity of the repairs needed and keep you informed so there are no surprises. We always keep our pricing reasonable and affordable, with a focus on building a relationship with our clients. We understand that a vehicle is an essential part of everyday life, so we keep our prices at a competitive rate while always delivering a quality and reliable service.

SAAB Air-conditioning

If you live in Melbourne, you can experience four seasons in one day. Australian summers are sizzling and our winters are freezing, so don't take any chances with your Saab's air-conditioning. If your air-condition is not emitting any cold air, that means there is absence of air-con gas which leads to a leakage and if left untreated, severe damage. At JB Prestige, we test and diagnose your air-con system to avoid the latter, so we can proceed to re-gassing of the system. Did you know that on average your vehicle loses around 10% of gas annually? That's why JB Prestige checks interior vents for correct air flow and accurate climate control. Air-conditioning is no longer an "optional extra" in Australia and JB Prestige can repair and service your unit to make sure every drive is a comfortable one.

SAAB Courtesy Cars

Don't be left without a ride. At JB Prestige, we'll take care of your Saab and send you home in one of ours. You get to choose from our range of Saab models while your vehicle is restored to prestige condition. Our team understands how frustrating it is when a mechanic takes your keys and points you to the nearest taxi rank or bus stop. But at JB Prestige, you'll never have to miss a meeting or be late to pick up the kids again. Waiting times depend on the extent of repairs needed, but JB Prestige's courtesy fleet will keep you on the road no matter what.

SAAB Key Programming

Restore your safety and comfort with us. JB Prestige can assist in programming issues related to your key and fix any faulty matters or worn out key programming. We provide new keys for spare or even replacement. Our technicians also can cut new keys and program new key fobs, repairing deteriorated remotes. JB Prestige will configure and program your key back to normal, or even cut new key blades. We want you to feel comfortable and relaxed when it comes to driving, by ensuring that all electrics programming on your Saab works perfectly.

SAAB Tyres

JB Prestige tyre repairs and replacements are performed by our fully qualified and accredited service team at competitive prices. Our mechanics can perform all of your regular tyre replacements and balance tests. If you're experiencing poor acceleration, bumpiness or vibration, contact the JB Prestige service team today and we will get you back on the road as quickly as possible in a vehicle ready to tackle any surface or condition. Your Saab is a luxury vehicle, so make sure you are getting the most out of it by looking after your tyres. JB Prestige offers high quality tyre repairs and replacements without breaking the bank. Tyres play a pivotal role in your car's stability and our extensive balancing tests will make sure your wheels are free from heavy spots. You can rely on JB Prestige for your regular tyre checks, roadworthy tests and tyre puncture repairs. Your tyres should be able to handle all conditions and road surfaces, so if you feel like your drive isn't as smooth as it could be, contact our service team today. JB Prestige deal with state of the art tyre manufacturing companies such as Pirelli, Kumho, Michelin, Good Year and Hankook, whilst our skilled technicians will replace any faulty tyres and get you back on the road with a vehicle that is ready to tackle any surface.

SAAB Convertible Rooftop Repairs

JB Prestige offers the full range of convertible rooftop repairs at affordable and reasonable prices. If summer is around the corner, our service team will make sure your convertible rooftop and fabric canvas is in mint condition and working perfectly to enjoy your long drives. JB Prestige run your vehicle through our computer testing to ensure hydraulics and electronics are working correctly. If it's winter that's on its way, then our technicians can make sure the rain and cold stays on the outside of your vehicle. At JB Prestige, we waterproof canvases and repair any water leaks. Whether it's a simple fix or something more complicated, the JB Prestige team has the qualifications to adjust and repair all Saab rooftops.

SAAB Roadworthy Certificates

We perform all the necessary tests to ensure your potential Saab doesn't show any faults or errors in both its mechanical or computing components, following our tests we produce a detailed report analysing and pinpointing faulty components. If you vehicle is in good condition, we issue a certificate! Our roadworthy certificates are handed out when selling or buying a Saab to ensure high driving quality.

SAAB Vehicle Repairs

JB Prestige offers a specialist team dealing with Saab Repairs in Melbourne and surrounding suburbs. Our mechanics that deal with the Saab repair service have extensive experience in all aspects and repairs over all models of the Saab brand. Our team and staff are all easy going, approachable and dedicated to getting the job done. We deal with all projects with care and professionalism to ensure the accurate completion. With this commitment we overwhelm you and continue to accomplish what we do best!